XRP Price Stable As Grayscale Plans to Dissolve XRP Trust Closing Investment Avenue for Institutions, But Why?
Despite the fact that institutional-grade digital asset firm Grayscale has announced it will dissolve its XRP Trust as the United States Securities and Exchange Commission (SEC) pursues its lawsuit against Ripple, the XRP price did not suffer a further price plunge and instead stabilized—even making a slight gain. But why?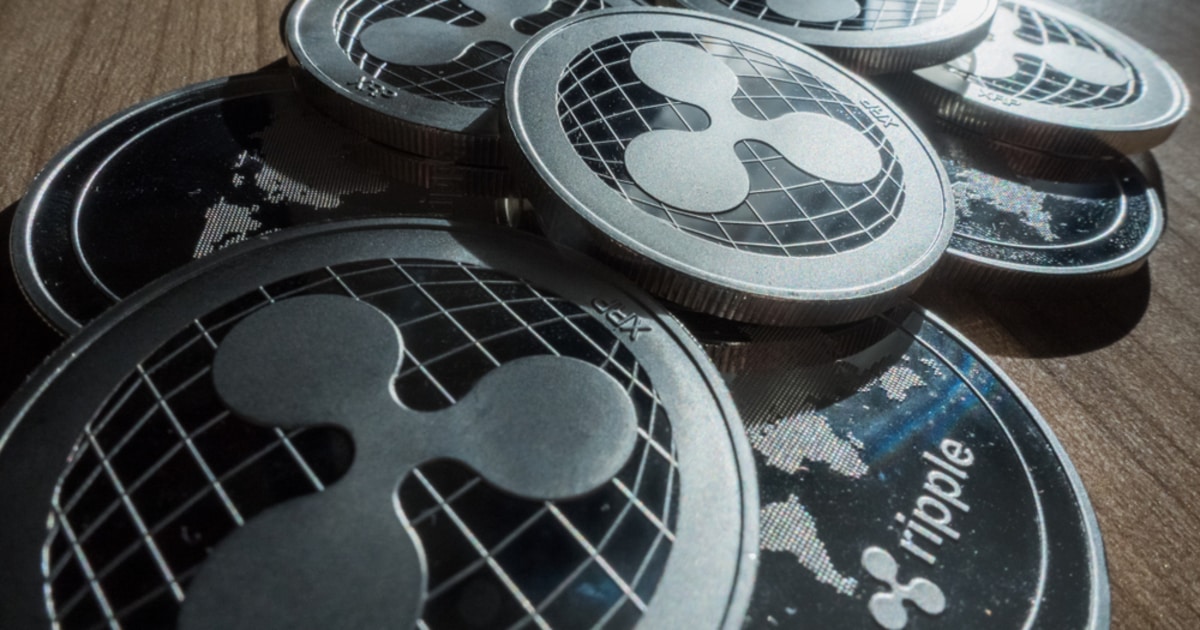 One major reason for the XRP token's continues price stability is that the Financial Services Agency (FSA) has today asserted that XRP does not meet the definition of a security under Japanese law. Though it does not alter the SEC's current litigation against Ripple Labs, it's a good demonstration that there is a lack of consensus even between the regulators themselves. It is definitely great news for XRP investors.
Meanwhile, many cryptocurrency exchanges have moved to delist the token in fear of the repercussions the lawsuit may mean for their platform. This includes Coinbase, Bitstamp, and Binance US. This may create a huge hindrance for people who want to buy XRP, but at the same time, it also makes it harder for people to sell it. Most people must have dumped their XRP tokens after the rumors that the crypto exchanges are going to delist the coin.
When the SFC news was released, the selling pressure was overwhelming, causing the XRP price to plunge to 0.17 but afterward, it rebounded quickly to $0.30. The worst may have already happened, and when there was a huge selling panic among the cryptocurrency community, it was proven to be the best time to buy.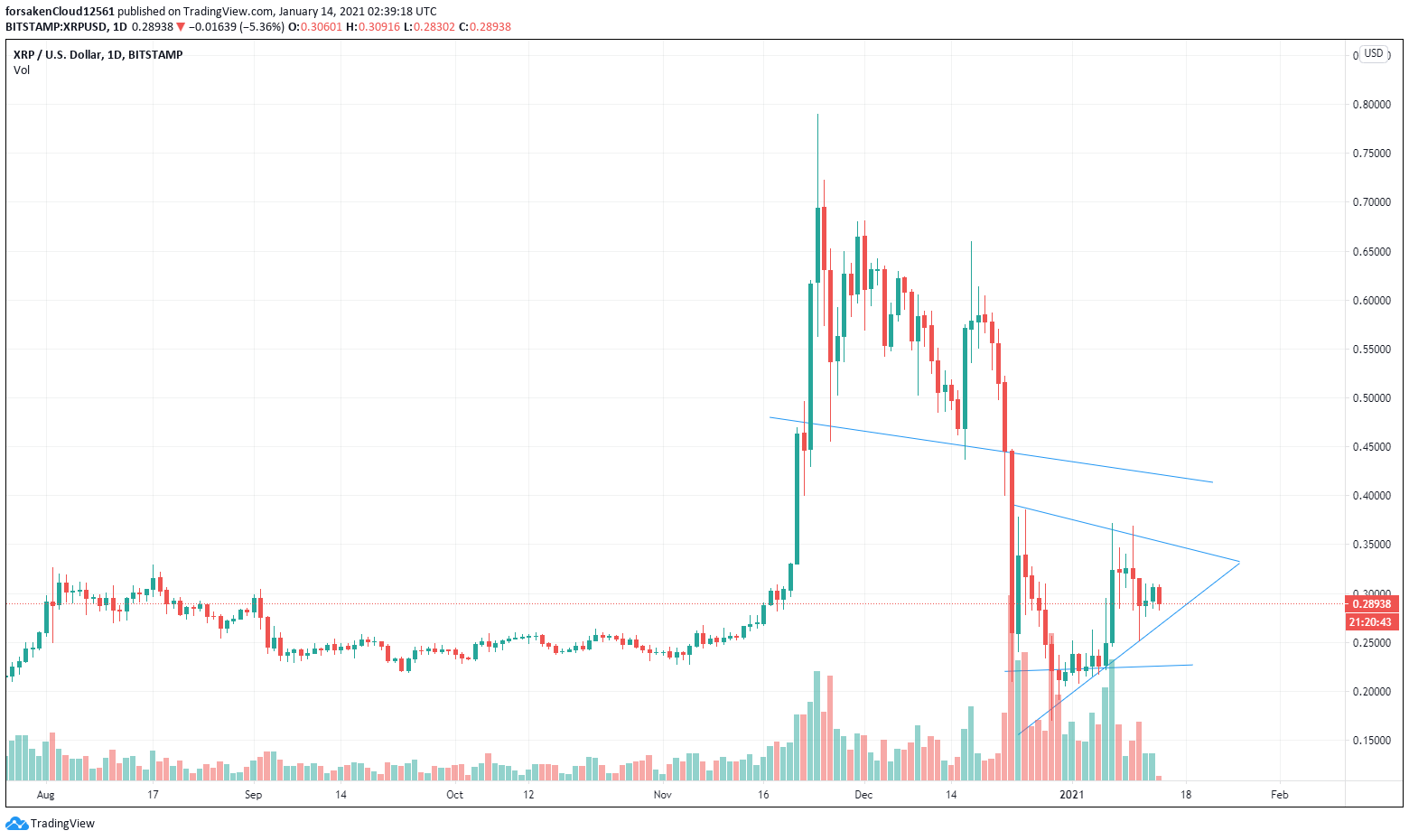 Source: XRP/USD 1D TradingView
XRP price is currently trading at the 0.29 level and it is expected to trade in the triangle drawn in the chart before a breakout. If it breaks upwards, the next resistance level is located at $0.4 area. If it breaks downwards, the $0.226 level appears to be the level that will provide enough support for XRP to hold its price and get a decent bounce off the support.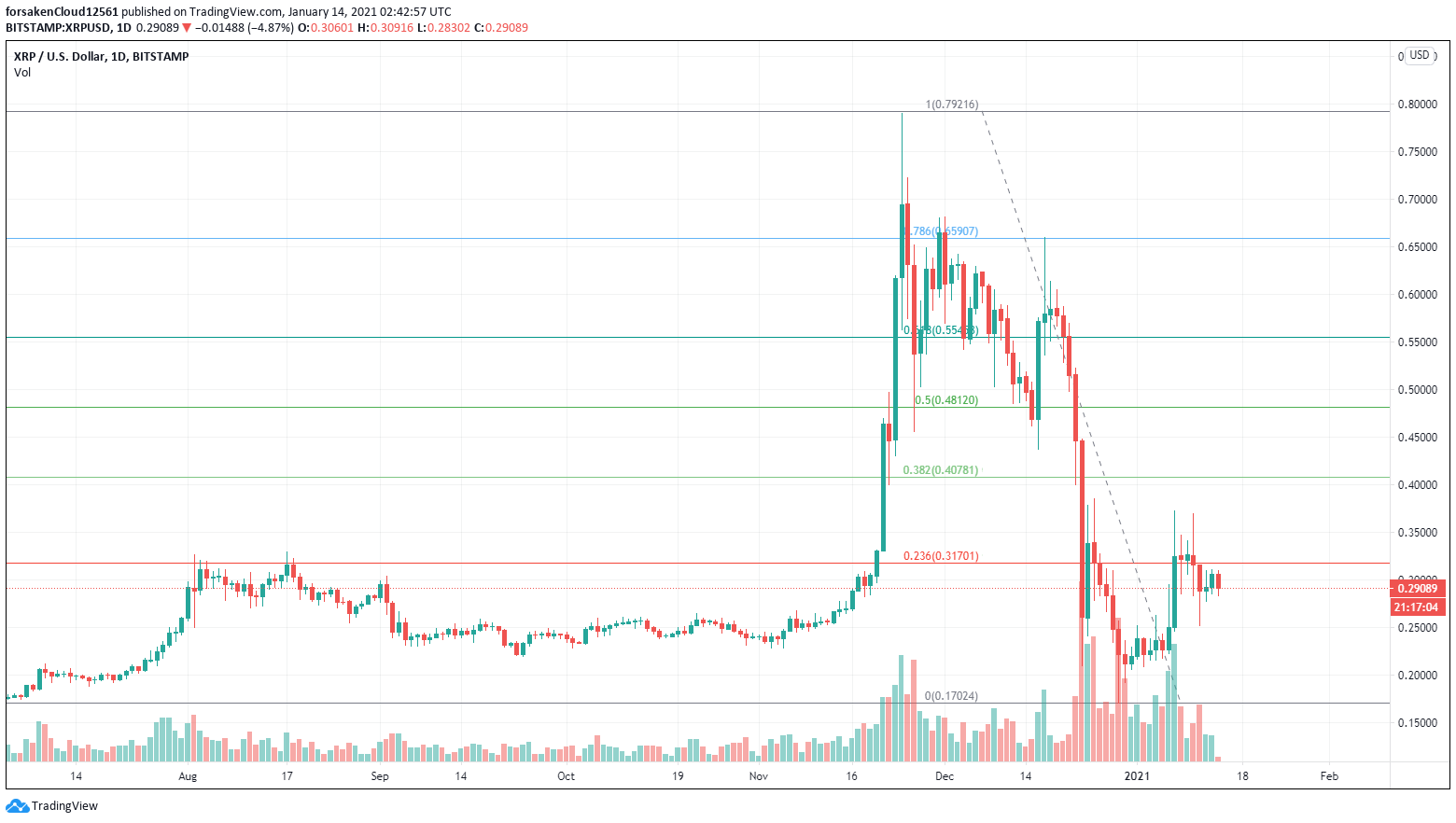 Source: XRP/USD 1D TradingView
If the XRP price breaks upwards, the XRP's first target will be the 0.382 Fib retracement level at 0.4 or even 0.5 Fib retracement level which is located at $0.48.
XRP is currently trading at $0.29 at the time of writing and despite the news of Grayscale Investments dissolving the XRP Trust breaking across the crypto markets, the Ripple associated token is only down 1% in the last 24 hours. XRP may be down but it does not yet appear to be out.
Image source: Shutterstock
Grayscale Will Dissolve XRP Trust In Reaction to SEC Lawsuit Against Ripple
Read More