Ant Group's IPO Delay Bigger Concern for Asia Tech than US Election
Could the suspension of Ant Group's $34.5 billion IPO have a greater impact on Asia's FinTech ecosystem than the United States election?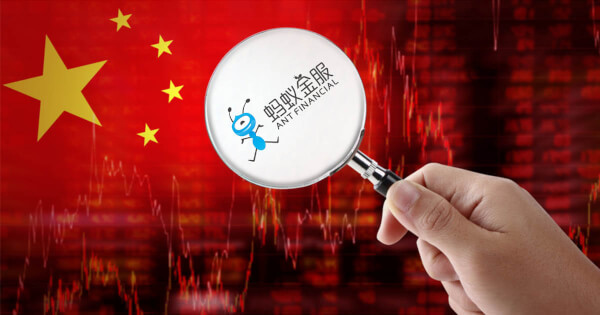 Ant Group was meant to hold its record-breaking initial public offering (IPO) today, that was until the IPO was abruptly suspended after a meeting between Ant executives and the People's Bank of China along with Chinese financial regulators, following some regulatory criticism from founder and China's second-richest man Jack Ma.
A day after the meeting between Ant Executives and China's financial watchdogs, the Shanghai Stock Exchange announced the suspension stating that Ant Group's actual controller, chairman, and the general manager were being interviewed by regulators.
In addition, the exchange said that Ant Group's reported changes in the regulatory environment of financial technology may cause the Ant Group to fail to meet the issuance and listing conditions or information disclosure requirements. Therefore, the Shanghai Stock Exchange has decided to suspend Ant Group's listing.
According to a report from CNBC on Nov. 04, the CIO of Reyl Singapore, Daryl Liew believes the suspension of Ant Group's initial public offering (IPO) in China and Hong Kong could have a far greater impact on Asian financial technology (FinTech) than the United States election results.
Global Trend Of FinTech Scrutiny
Liew is the Chief Investment Officer for Reyl Singapore and thinks that Ant Group's IPO suspension could represent a rising global trend of increasing regulatory scrutiny of FinTech companies. Liew told CNBC that as a result of this trend, investors may begin to reevaluate the valuations of tech firms.
Ant Group is the parent company of Alipay, the largest payment platform in China. The company offers lending, credit scoring, and other financial related services. Unlike traditional financial institutions like banks, Ant Group has stressed the importance and adoption of technological innovations like blockchain, IoT, Database, AI, and Security technologies.
Regulators have been showing increasing interest in Ant Group's operations. The head of consumer protection division and Chinese banking regulator, Guo Wuping recently said that the rights of users of Ant-owned consumer loan companies Huabei and Jiebei deserve close scrutiny.
Guo also said that a fintech like Ant Group could be seen as a technology-driven multi-purpose bank, and should therefore be under the same regulatory scrutiny as a bank.
China's Problem Too
Liew told CNBC, that prior to this suspension most regulatory concerns appeared to be the problem of the United States, with FinTech giants in China appearing to have more government support, like Tencent and Jack Ma's Alibaba.
Ant's record-breaking IPO would have led the way for future Asian fintech public listings, and would have been a huge achievement for China's technology sector.
Liew asked:
"Is this something that has thrown a huge spanner in the works — not just for Ant but for other tech companies?" he added, "The fact that the Chinese are also now looking into this is a concern."
Another expert, Winston Ma, adjunct professor of law at New York University told CNBC that he believes:
"The increased scrutiny of internet lending is just the beginning, as more regulations such as the anti-trust and the personal data privacy protection are also coming to the picture […] In short, the age of (exponential) growth in the wilderness for internet finance is over — and that's the reality the fintech investors have to embrace."
Don't Focus on US Election
Currently, no clear winner has emerged from the US presidential election and the race has become more a dogfight than the landslide Biden supporters were expecting.
While many in the markets have their eyes firmly on whether President Trump will serve another four years or if former Vice President Joe Biden will assume the oval office—Liew argues that investors should not be "overly concerned about who is going to be president."
The head portfolio manager instead recommends that investors analyze the fundamentals and valuations of firms at this point, as there are too many moving parts in the election.
Image source: Shutterstock
Read More