Jul 10 Trading Analysis: When bitcoin sneezes, the crypto world catches a cold
Trading Crypto with Eugene is a series of daily commentary of market analysis and trading advice shared by Eugene Ng of Matrixport, a veteran trader with 10 years of experience in top-tier global investment banks. If you like the article, please follow us here on Blockchain.News so you won't miss our future publications.
When bitcoin sneezes, the crypto world catches a cold. BTC's down 2% in the past 24 hours dragging the entire sector into the red, with recent ALT tokens starting to retrace their stellar gains. Last night, we had some liquidations going through ~$20mil on BitMex from the sell-off in US stocks, driven primarily by large cap stocks. Interestingly, there's some divergences going on between stock indices performance; while the Nasdaq gained 0.5%, Dow fell 1.4% and small cap Russell 2000 dropped 2%. Robinhooders giving up?
In terms of crypto headlines, Coinbase and BlockFI rumoured to be targeting for listing their shares publicly this year and 2021 respectively. Bitfiniex will have to respond to claims about hiding $850mil in NY court. Macro headlines today include Tokyo reporting record 240 Covid-19 cases on Friday (2nd waves hitting Asia? HK, Aus.. and now TKY), China state funds starting to sell (think this was strategic from the govt; signal that they do not want this rally to end in tears for retail) and escalating China-US tech war headlines (Tiktok in the mix).
With escalating covid19 cases in some US states (esp Florida, Texas, California and etc - it's very hard to ignore that when the cases keep rising), Oil now back to below $40, lack of any macro news tonight and some technical exhaustion signs on equity indices, I think US stocks will trade weak tonight; and I think there is a likelihood that S&P will likely close near the BIG 3k level. BTC has seen a 31% MoM drop in trading volume last month, and the trend's been similar so far this month, and that has basically stuffed volatility up. I think with this potential crumble in equities tonight, BTC will see a BIG move tonight. A big $500-1k move. My plan is to basically to sit short and load up on 8 to 8.5k puts for the next few days. Gdluck and have a great weekend.
BTC is respecting the downtrend channel for now... Dont fight the trend, the trend is always your friend...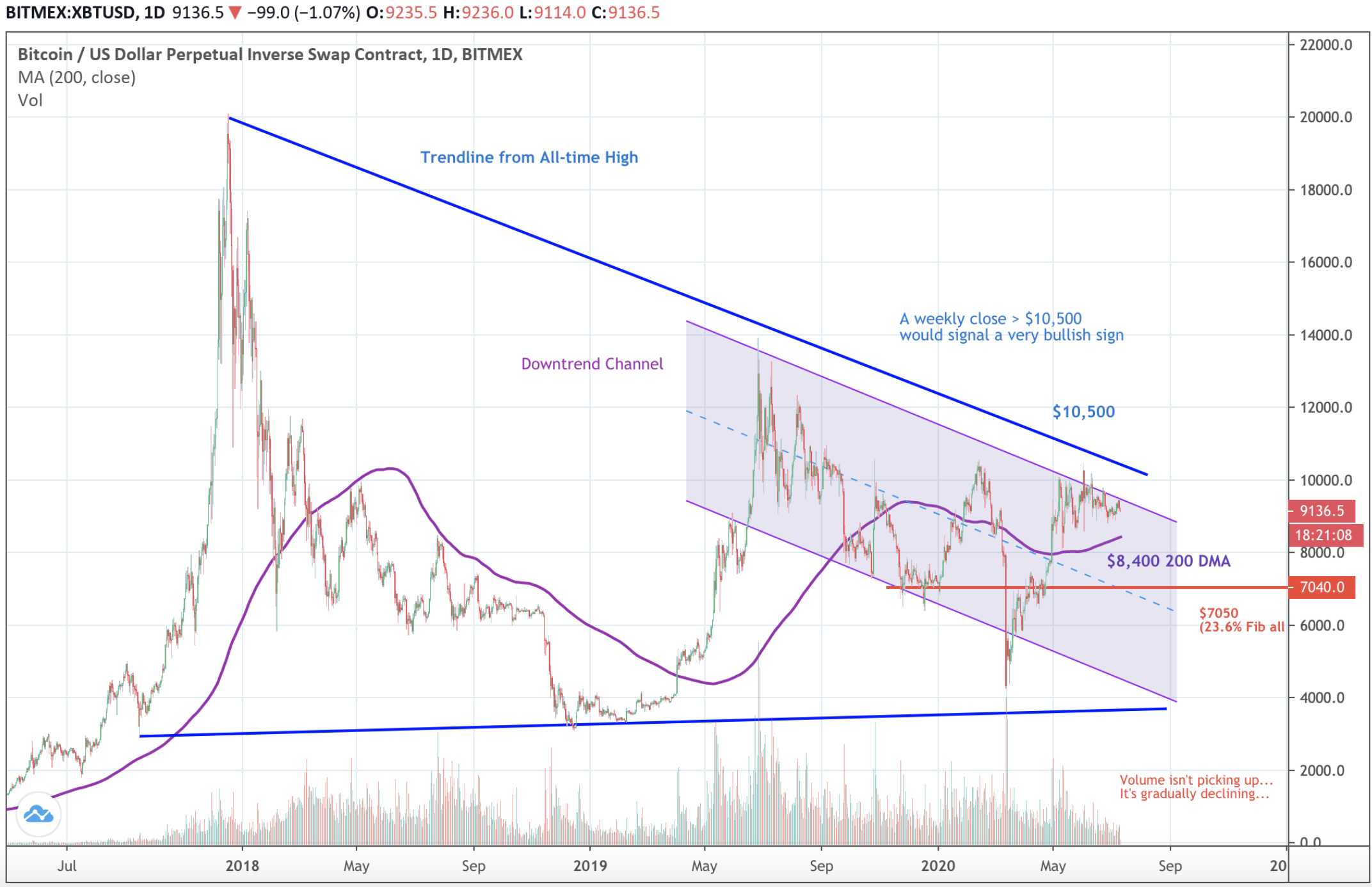 Russell closing below channel tonight? That's gonna be very telling for what may happen next in U.S. stocks... Will we continue to see the divergence b/w large cap and small cap again? Hmm..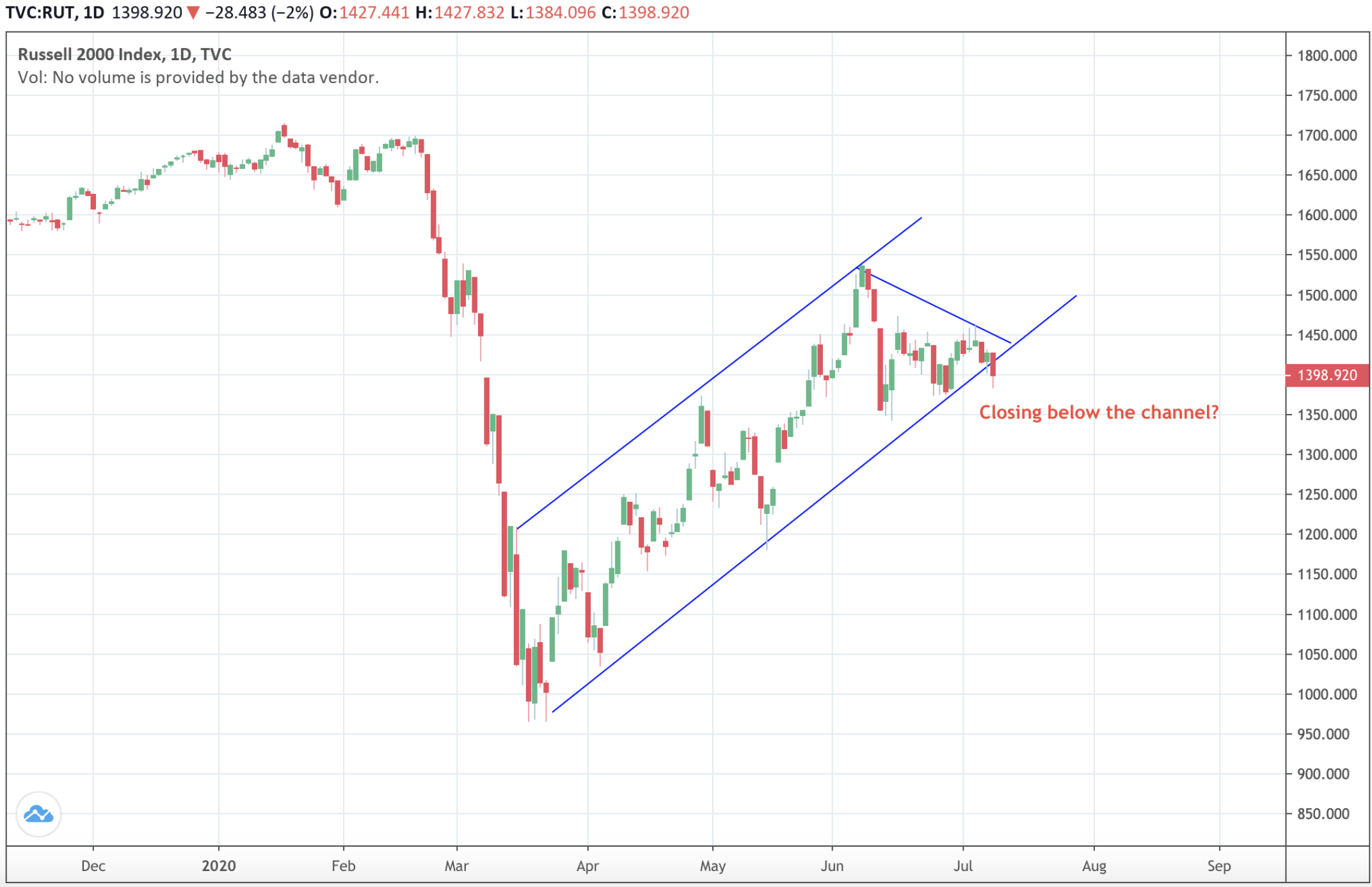 China CSI 300 showing ALL TIME GREED. Time to book your profits, as my mentor once said once to me, it's never your money until you take 'em.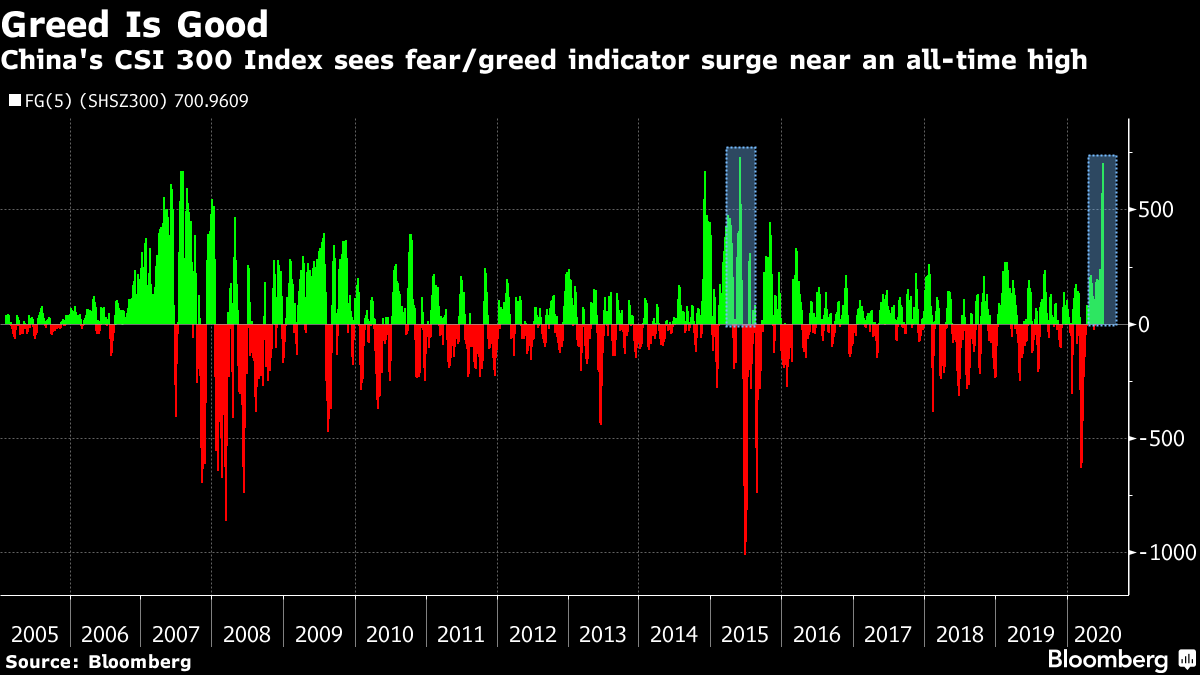 Opinions expressed are solely the analyst's own and do not express the views of Matrixport the company.
The views and opinions expressed in this article are those of the contributor and do not necessarily reflect the view of Blockchain.News.
Read More