Bitcoin Will Rise to Over $1 Trillion In Next Ten Years, Tesla Investor's BTC Value Prediction
Bitcoin has had a rollercoaster year amid the COVID-19 pandemic market disruption but has ultimately persevered adding over 40% to its price and now exceeds $200 billion in market capitalization.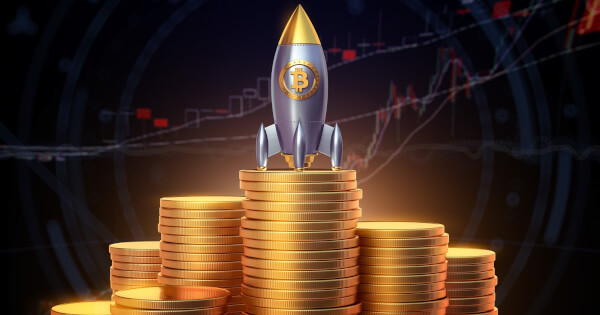 The Bitcoin price sat at around $7,000 per Bitcoin token at the beginning of 2020, before crashing to under $4,000 on Black Thursday in March. The Bitcoin price has since rebounded to and sits at around $10,700 per coin at the time of writing.
This year, there has been a marked increase of institutional interest in Bitcoin and maturity in the cryptocurrency market, particularly on Bitcoin's status as a store of wealth in a time of economic uncertainty.
A prominent investor who correctly predicted the exponential growth of Tesla this year, has now reported that they expect Bitcoin's market capitalization to exceed $1 trillion and could go as high as $5 trillion during over the course of the next decade.
As reported by Forbes on Oct 4, Ark Invest's Director of Research Yassine Elmandjra recently released a report to persuade investor's to stop ignoring Bitcoin's potential as an asset.
Elmandjra wrote:
"Bitcoin offers one of the most compelling risk-reward profiles among assets, as our analysis suggests it should scale from roughly $200 billion today to $1-5 trillion network capitalization during the next five to ten years."
Ark Invest previously correctly guided its investors towards investment in electric-car and tech development firm Tesla, a company whose price has increased over 400% this year alone, despite the market disruptions.
Bitcoin: The Last Decade and Beyond
Ark reportedly remains exceptionally optimistic on the Bitcoin price in the decade to come, and it only takes a short look back over the last decade to understand this sentiment.
Bitcoin is by far the highest performing asset of the last ten years, its price increasing from less than a dollar to it all-time-high of $20,000 per Bitcoin token by the end of 2017 before a slight implosion of the crypto market, largely due to bad actors and a run of cash-grabbing initial coin offerings as the crypto market was center stage at this time.
Elmandjra wrote in the Ark report:
"Our analysis suggests Bitcoin is early on its path to monetization, with substantial appreciation potential […] In our view, bitcoin's $200 billion market capitalization—or network value—will scale more than an order of magnitude to the trillions during the next decade."
Elmandrja also warned that a number of risks still exist that could completely derail Bitcoin's coming bull run. While the institutional investment into Bitcoin is encouraging for crypto investors, the analyst says over-institutionalization could destroy Bitcoin's value proposition and could see a "few trusted parties dominating transactions."
MicroStrategy acquires $425M worth of BTC
The Chief Executive Officer of the multibillion-dollar business intelligence firm MicroStrategy recently discussed the subject of Bitcoin (BTC), gold, and alternative asset classes. He explained that with the Federal Reserve's plans to continue pushing inflation above 2%, he felt as if MicroStrategy's investments were sitting on "a $500 million melting ice cube," with the depreciation of the US dollar.
This drove him to secure MicroStrategy's treasury reserve by purchasing $425 million worth of Bitcoin. The bold move made headlines everywhere as MicroStrategy is the first public company to invest most of its reserve monetary supply in BTC.
Image source: Shutterstock
Read More